Dance improvisation means:
walk – fall – roll – jump – turn – swirl – float – fly – dive – pitch – support – hang – swing – curve – stretch – carry – lie down – stand – breath – feel – encounter…..
and much more!!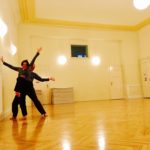 Dance improvisation supports our authentic expression and presence,  to unfold our inner being. When we practice Dance improvisation, we invite the body to move just the way it would like to. The body can free itself from longterm movement habits, and we feel more complete, more vital, more agile, yes even more happy. It can take a while, but some time the body will let go of all the patterns it no longer needs and will start to move spontaneous and authentic.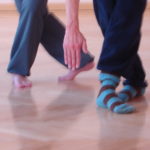 Dance improvisation is not a therapy. Its impact can go as deep as any therapy, sometimes even further, because of the fact that there are no therapeutic pressure or expectations. Improvisation uses the four principles of movement, through which any movemant can be observed: time, space, energy and body. There are no movement exercises offered, no choreography etc. Through the instructions all the participants can find their own way, individually and with the group. We strengthen our selfconsciousness, our ability to communicate. We are more at home in our bodies and feel more lively and open in our daily life.
Structure of the classes: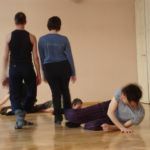 The first thing to build is the selfconfidence, to discover our own individual style, and to explore all the different ingredients we need to improvise: the movement possibillities of the body, what do I do with time, space, energy, what impact hat my breathing rhythm on the movement. When this basis is strong, we can build further. Breath, voice, impulses, action-reaction, communication in movement, dynamic, association with music, are some themes we work with on a regular basis.
In this way we train the different qualities of movement, and refine our expression. Other components are: Group improvisation, duet, trio, solo, contact improvisation.
INFORMATION:
We start on April 11th until June 27th.
Advanced group, Tuesdays 19.00 – 21.00, Institut Dr. Schmida (close to Karlsplatz, Museums Quartier and Naschmarkt)
Some necessary requirements for this group:
You like to experiment

you are not afraid of contact

Mental and physical stamina

Commitment